My Favorite Family Tree App For The Sims
A popular past time in The Sims is family legacy gameplay. Not every Simmer documents their family stories to a tee. At the very least, we do like to keep track of the family tree. These often span across many generations – the bigger, the better! There are plenty of family tree apps out there that help us do just that. The Sims community is no stranger to family tree apps, for example Family Echo or The Plumtree App. All great tools, but I found the ultimate family tree app to build your Sims family trees. And somehow it's gone completely under the radar!
The app is My Family Tree and it is more than just a genealogy program. This family tree software can track your Sim stories, any imaginable attributes and events as well. You can even track multiple families from entire worlds or save files, all within one project. And that's just the tip of the iceberg!
What makes this app stand out for me? The many features it comes with and the complexity with which I can build my family trees!
Beautiful Family Trees Visualized As Charts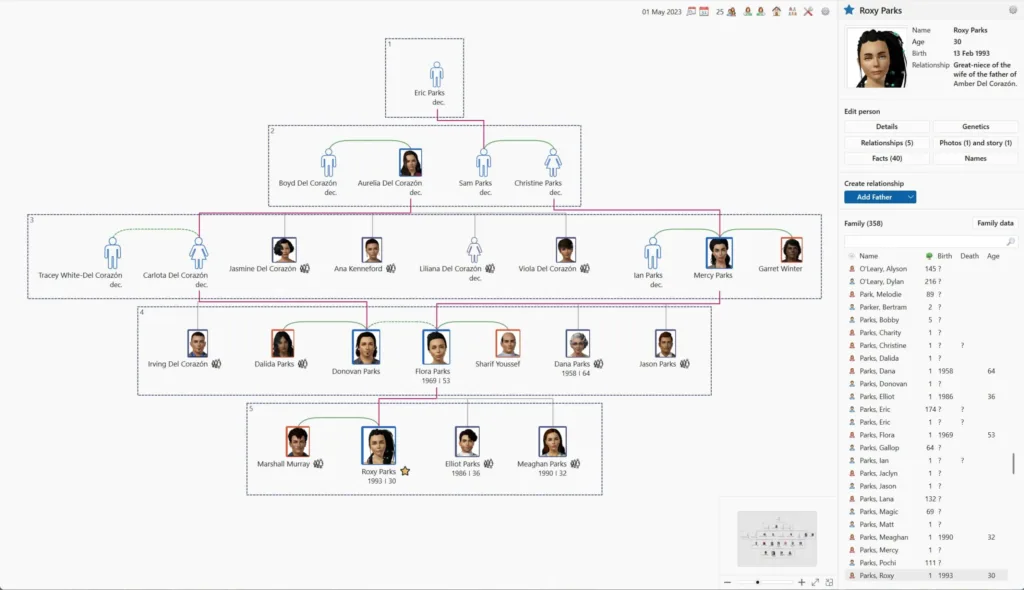 My Family Tree app comes not with just one view to visualize your family tree, but four! Considering the extent in which you can further customize each of these views, the possibilities are far more.
You can choose between a classic hierarchal view, an ancestors view or a fan view, which can depict either the descendants or ancestors of your selected Sim. Furthermore, the way the information is displayed is customizable. For example, you choose what type of relationships are displayed, the amount of generations listed, displayed details and even font family and tree line thickness. My favorite customization is the option to show bloodlines in the classic family chart view. This displays a red line throughout the chart and follows the direct lineage of your selected Sim, right up to the family founder!
Add Multiple Photos And Stories To Each Sim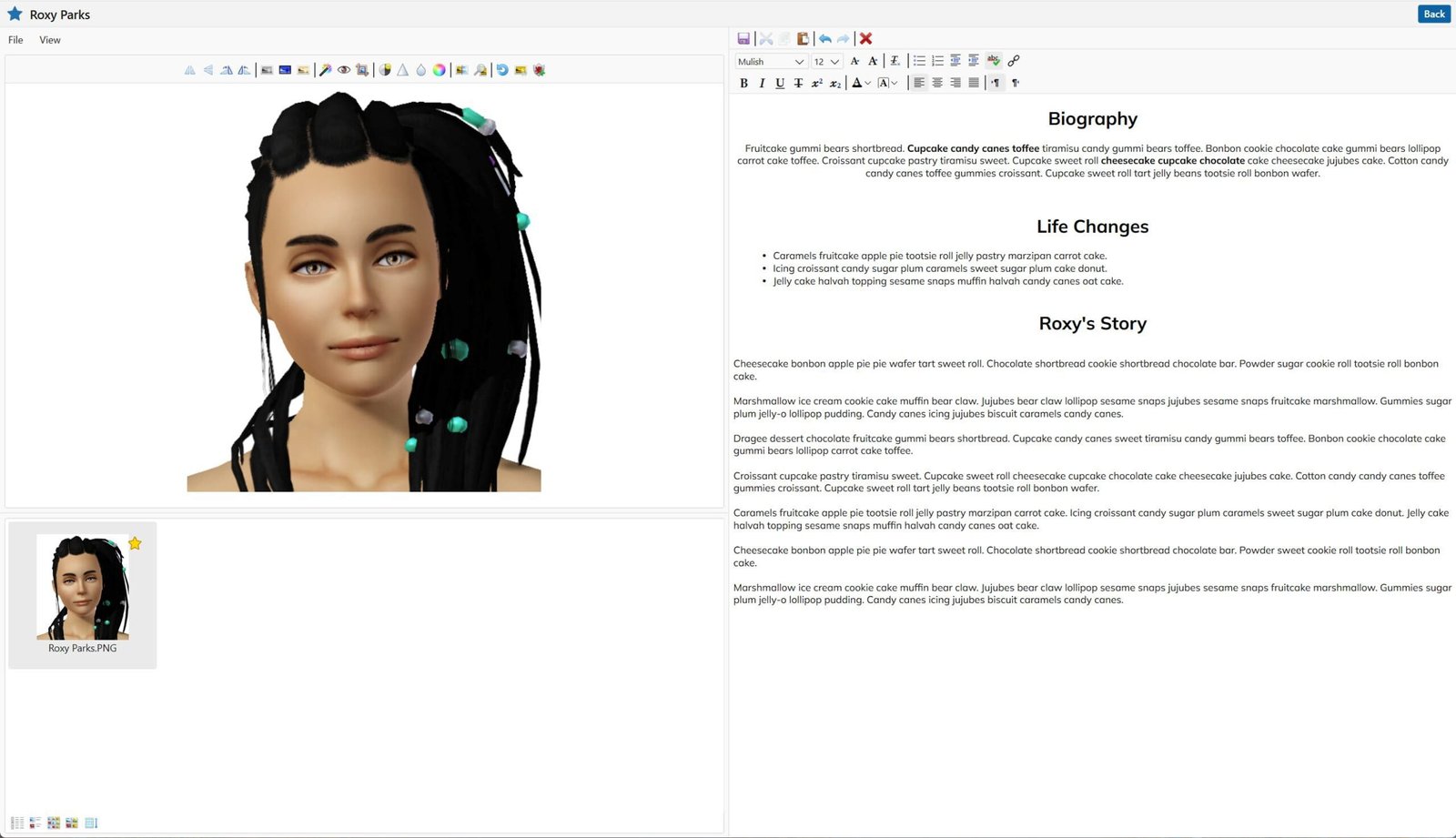 The Photos and Story feature of this app makes it really stand out. You can set a primary image for your Sim, but you can also add additional media to your Sim, such as screenshots or even videos. If you mark an image as the family crest, it is then visible in the app interface whenever that Sim is selected. You can add plenty of metadata to each image and if you have multiple of them, you can view them in a slideshow view.
You can also add a story to each Sim. The app gives you plenty of space and formatting options to get really elaborate with this.
Record Information About Family Members With Facts
The Facts panel stores all imaginable details about the lives of your Sims, whether these be attributes, events, or even shared facts. Each fact record lets you save additional information, such as the date, location and any notes about that particular fact. There are three types of facts – attributes, events and family facts. The family facts are shared events between two family members, like a marriage.
The best thing about these facts is how customizable they are. The app comes with an assortment of pre-determined facts, but you can create your very own as well. So whether your playing The Sims 2, The Sims 3 or The Sims 4, you can record any type of data from the game. For example, you can create an aspiration or fear attribute fact, anything you'd like.
View Historical Events In A Timeline View
If you save an event with a date, it will be added to the timeline view. The timeline view is a space where you can scroll throughout the history of your Sims's lives and view any historical events. If you're playing a history challenge, you can use historical dates for your events. If you aren't currently conquering the Sims Decades Challenge, you can simple use the actual real time date and hour the event happened.
A Family Tree With Complex Relationships
My Family Tree has the capability to save various types of relationships, far more complex than your standard spouse and child relationship. For example, your Sim can have a biological, adopted, foster or step-child. Couples can have all sorts of different partnerships and you can even apply a status to this partnership. For example, a couple's relationship can be married, but the status is current, divorced, deceased, engaged, etc.
With some tweaking you can even add unrelated members to the tree and create friendship connections. My Family Tree App lets you add an "Unrelated" member, who you then can connect to an existing Sim with an "Other" relationship type. You can add a custom name for the type, for example "Friend". Unfortunately the relationship is still listed under the "Spouse" tab within the Relationships panel, but the "Friend" connection is there nonetheless.
Understand Your Family Trees With Statistics
The Statistics view summarizes the information about your Sim family into different panels and charts. Here you can practice population control and gain an overview of the distribution of certain traits, relationships genders and age groups (if you use give your Sims "real" birth dates) in your family/save file. Which Sim has been married the most often or which names are the most common? You can find this out under the Statistics view.
Summarize Your Family Trees In Reports
The Reports feature lets you produce customizable family, person, topic and diagnostic reports about your family trees. For each category you can create different types of reports, for example timeline reports (which list all of the events for a family or person), a marriage list or an Ahnentafel (summary of all blood ancestors).
This software is massive with so many features, so I recommend checking out the documentation on the app's website. It will give you more information about each feature and how to use them.
📥 Download the My Family Tree App by Chronoplex for free
Watch my video review of the My Family Tree App: